What is an updated tradeline?
You're asking for two reasons:
You keep getting notices about them from your credit monitoring service.
You keep searching Google and all you're coming up with is credit enhancement websites (like our website) where tradeline means something else.
In this article, we'll address both updated tradelines and tradelines for credit improvement.
What is an updated tradeline on a credit report?
Let's first define what a tradeline is: A tradeline is an account appearing on your credit report. Or, as we defined it earlier.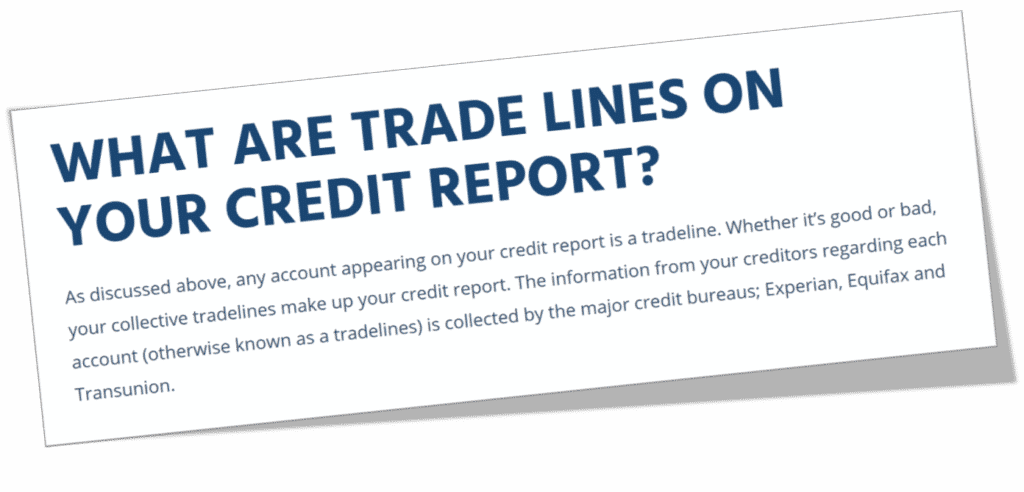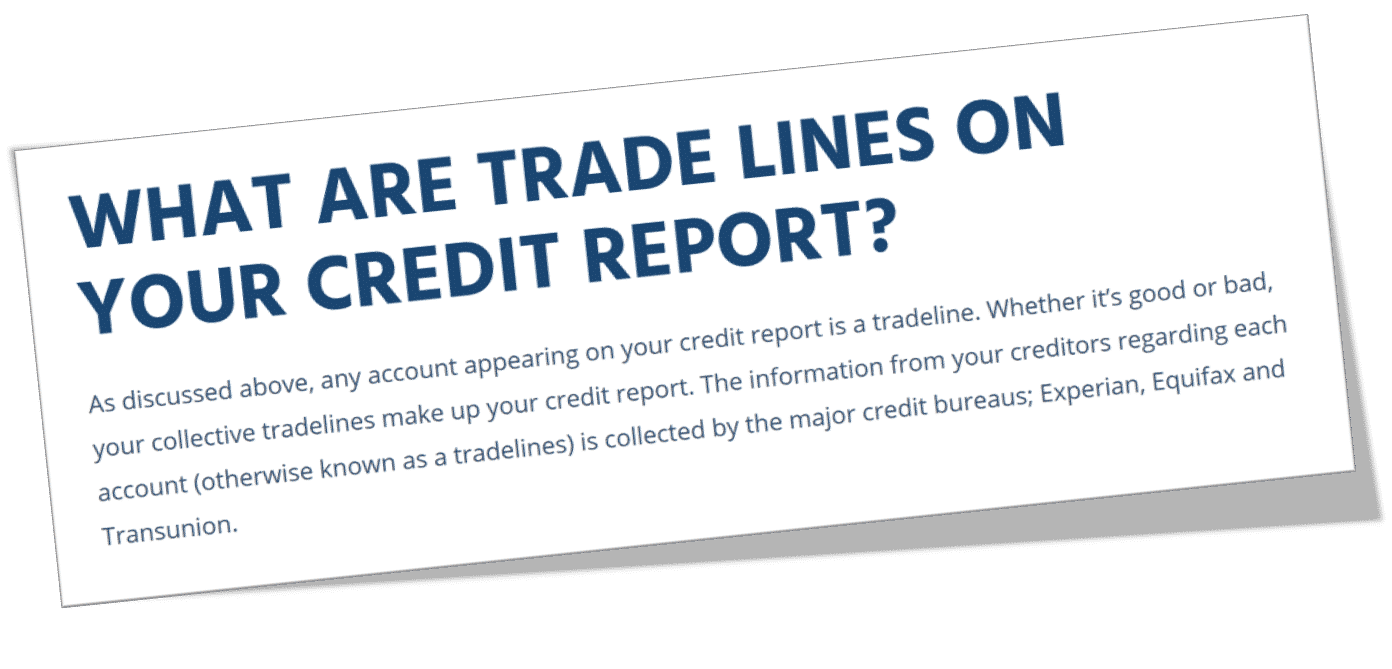 That is:
"…any account appearing on your credit report is a tradeline. Whether it's good or bad, your collective tradelines make up your credit report. The information from your creditors regarding each account (otherwise known as tradelines) is collected by the major credit bureaus; Experian, Equifax, and Transunion."
So, what about that "updated" part?
Well, by extension, an updated tradeline is an account in your credit report which has been updated.
Why are you getting notices of updated tradelines? It's because you have a credit monitoring service that is informing you that an account on your credit report has been updated.
Yes, it's that simple; no mystery. You can receive these notices for many reasons, including updated payments, new accounts, increased or decreased balances, etc. 
That's it? Well, what's all this better-credit stuff?
The term tradeline is mortgage industry jargon, but it has also become a mainstream term to describe credit enhancement techniques. It's called the "Uber" of credit.
Because of certain laws and regulation (such as the Equal Opportunity Credit Act and the Federal Reserve Board Regulation B.), it is possible to be added as an authorized user to a pre-existing line of credit (i.e., a credit card, a/k/a, a tradeline). If this tradeline is in good standing, it has a positive impact on your credit report and, therefore, your credit score. Here's an example: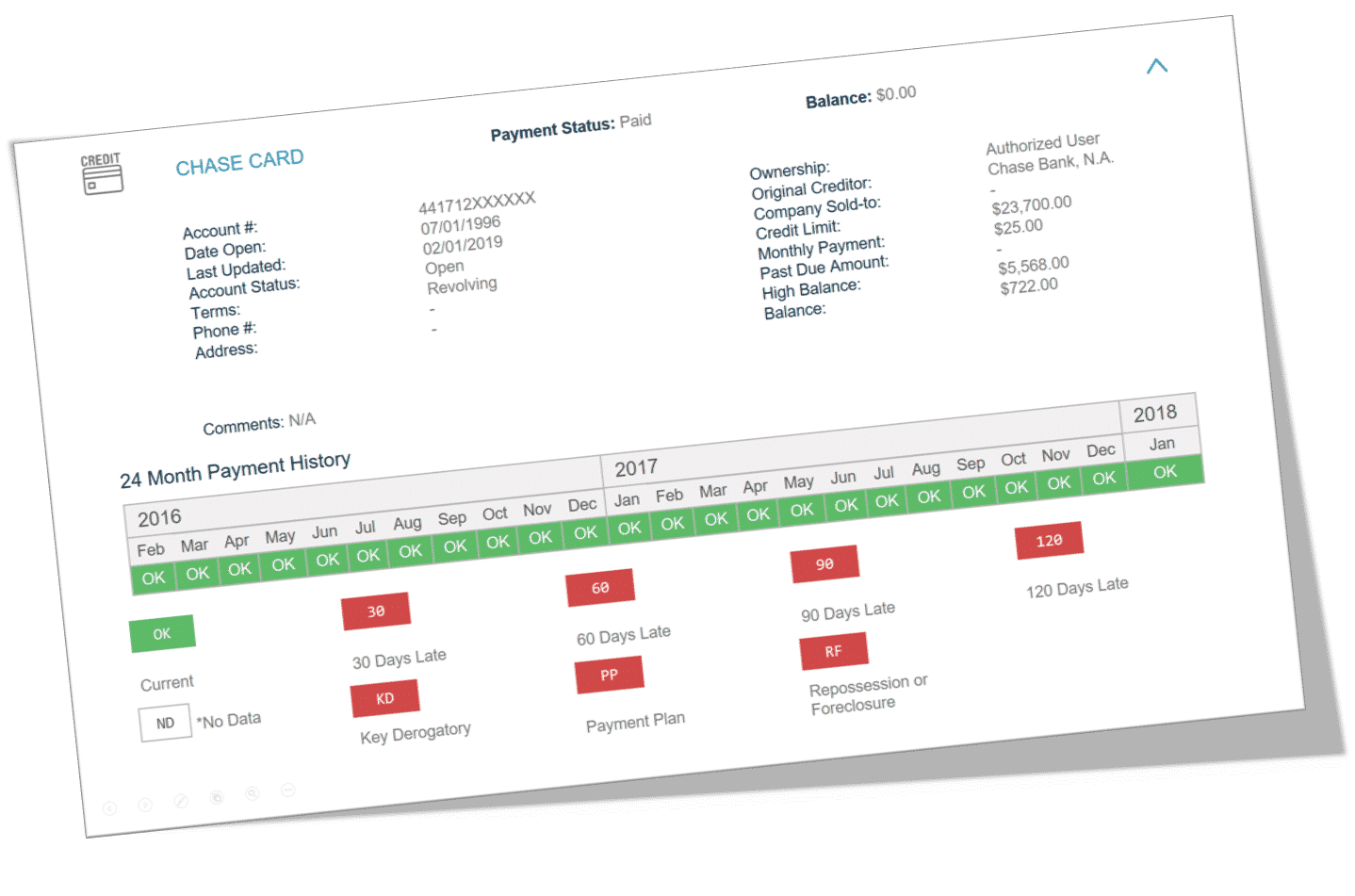 As you can see, the account has over 20 years of perfect payment history, since it was opened in 1996. The limit of the account is $23,700.00 limit and the balance is $722.00. This can positively impact debt to credit ratios, helping your credit score.
This is actually possible, right now. You can pay to be added as an authorized user. In other words, you can pay to have this account added to your credit report.
Need a better credit score?
We can add authorized user tradelines to your credit report for a fee. By the way, when we do, you will be notified by an "updated tradeline" alert. If you're interested in increasing your credit score by adding seasoned tradelines, you can get started by clicking here or you can email us at info@superiortradelines.kinsta.cloud.
Updated: November 2, 2021