Like a fingerprint or DNA, no credit report is the same. As such, the impact of tradeline on credit score is entirely dependent on what is on the credit report.
Unfortunately, the "40 to 50 points per tradeline" claims you see on competitor websites are so false and misleading. They could be considered humorous (if only these claims didn't negatively affect real people's lives).
Piggybacking credit tradelines affects everyone differently because everyone's starting point is different.
Can you tell me, generally, how much my score will increase by adding Seasoned Tradelines?
Generally, the fewer the number of tradelines (or accounts) you already have on your credit report, the larger impact the authorized user tradelines will have on your credit score. Likewise, the inverse is also true.
Largely, the fewer negative items you have on your credit report, the higher your score will increase after adding seasoned tradelines. Again, the opposite applies.
We will discuss three scenarios…
What credit score increase to expect with negative items such as collections and charge-offs
What happens if you try to pack your credit report with too many seasoned tradelines
The benefits of adding tradelines to a thin credit file.
Tradeline's impact on the score when added to a report with derogatory items…
Of course, all situations are different. However, it is possible to boost your score with tradelines even if you have negative items on your current credit report.
Again, the amount and severity of the negative items will determine how much of a boost you get. Furthermore, the appropriate selection of tradelines can help to counter the problems with your report. For example, below is a credit report with derogatory items and the addition of tradelines.  The scores went from between 590 and 630 to over 700 on all bureaus.
When you look at the report, you will notice derogatory items and assume there's no way this file would be in the 700s.  The tradelines are to thank for this score.
adding-tradelines-to-a-file-with-negative-or-derogatory-items

adding-tradelines-to-a-file-with-negative-or-derogatory-items

Can I just load up my credit report with Tradelines and get an 800 credit score?
We've run into a couple of situations where clients demand that we sell them 5 and 6 tradelines.
Unfortunately, we decline each request as it simply will not work. Additionally, we like to help our clients, not hurt them. If you exceed a certain amount of authorized user tradelines, it seems to freeze any movement in your score. Unfortunately, we are not sure why this happens.
Take the scores from the report below. Theoretically, with that many lines, this client should have been in the 700s, but the client barely got out of the 600s. By the way, this client came to us for additional lines… no that wasn't a joke. More importantly, no underwriter worth their salt would allow such a significant amount of authorized user tradelines through closing.  Even if it worked, you'd be wasting your money because a good underwriter is going to kick off excessive AUs from your file.
why-stacking-your-file-with-tradelines-will-no-work

How much can my score increase with nothing but Seasoned Tradelines?
If you are in the rare (yet lucky) position of having no credit or very limited credit, you can expect drastic increases in your credit score.  For illustration, below is from an individual whose credit file was 3 years old when they purchased tradelines.  They literally had no credit whatsoever and a zero credit score.  Thus, to avoid the catch-22 of the inability to obtain credit because of a lack of credit, they purchased tradelines for sale from Superior Tradelines, LLC and. The tradeline impacted their credit score, which went from zero to the 770s.
how-much-will-my-score-increase-if-I-dont-have-any-credit

Seasoned Tradelines Study
Recently, we conducted a study of the benefits of tradelines for over 850 participants. The study found that the average credit score increase across all 850 participants was roughly 88 points.
Does this mean that you will experience such a large boost if you add seasoned tradelines? No.
As stated above, the benefit of the tradeline will depend heavily upon what is already on your credit report.
If you are interested in getting tradelines, we highly recommend that you read this study. It could guide you on whether tradelines will be a good fit for you!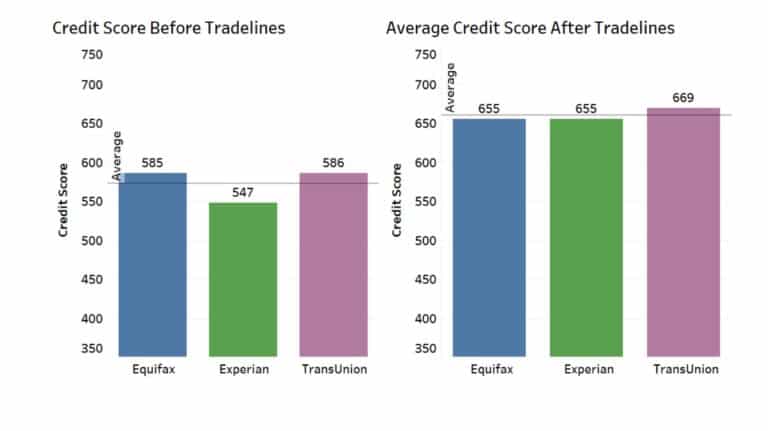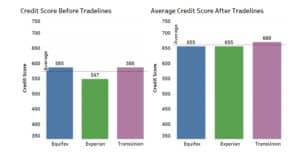 Updated: July 30, 2021
Kate is a managing member of Superior Tradelines, LLC. She manages and coordinates the company's operations and makes sure clients are assisted with care. You can contact Kate directly by calling: 321-328-0908 or by email: kate@superiortradelines.com