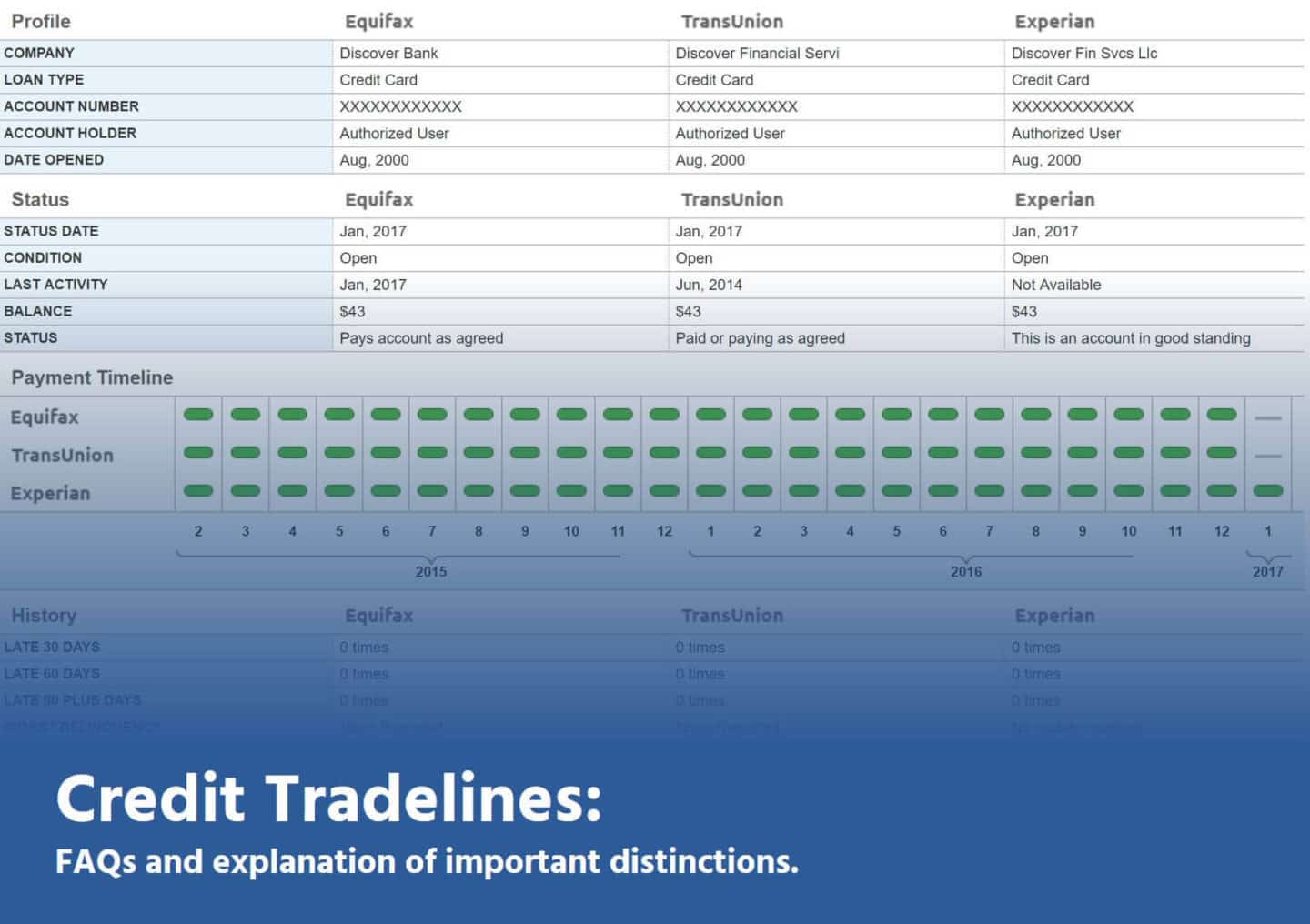 Credit Tradelines
Credit tradelines is a term of slight redundancy. Tradelines are literally credit accounts on your credit report. So, this term doesn't necessarily add anything meaningful to this topic. Credit tradelines are sought in order to add positive lines of credit to social security numbers, which results in that account and its details reporting to the individual's credit report. When that happens, the individual's credit scores are recalculated. If the accounts added are in good standing (and makes sense given a multitude of factors), the credit score will inevitably increase. Here are some of the most common and frequently asked questions we've received:
What are credit tradelines?
They are the same as any trade lines of credit… seasoned tradelines, authorized user tradelines, etc. It's just a term general enough to cover all of the categories. Typically, those searching for credit tradelines are looking for a way to add credit tradelines to their credit report in order to boost your score. That is what we do here at Superior Tradelines.
How do you add credit tradelines to your credit report?
They can be added to your credit report by having a primary tradeline account holder add you as an authorized user to the credit tradeline. Superior Tradelines, LLC has a large portfolio of credit tradelines and they stand by ready to add you as an authorized user for a fee. An answer any more specific than that would get into trade secrets. Rest assured, it is possible to add credit tradelines to your credit report.
Is there a difference between credit tradelines and other tradelines?
Not really. "Seasoned," "authorized user," and "piggybacking" are all the same thing as "credit" tradelines. These are just different terms. They are different in as much as "coke," "cola," and "pop" are different. At the end of the day, no matter what we call them, we're talking about individuals being added as an authorized user to revolving lines of credit (for the purpose of increasing credit scores). This is colloquially referred to as tradelines for sale.
Now, "primary" tradelines are – technically – different. "Business" tradelines are different, too. But, neither of those terms are what they sound like. We've discussed those topics on other pages.