I just wanted to start out with the obvious, because there's a lot of nonsense out there. Of course, it's difficult to distinguish between nonsense and non-nonsense, hence the purpose of this blog post. We've selected from the recent flurry of hokum found on recent Google searches; credit sweeps, credit profile numbers, "everything" tradelines, credit repair confusion and due diligence.
Mistake #1: Credit Sweeps.
Credit sweeps are nothing short of nonsense. The entire idea is premised on the false notion that you can decrease the time it takes to delete negative items in your credit report. It's meant to imply you can "sweep" away all your problems. That sounds good, doesn't it? Credit is a multi-billion dollar industry, marred with bureaucrats, lobbyists, credit bureaus, banks, etc.  If you think a guy with a keyboard and a five dollar per month hosting account with the shoddy website is somehow capable of breaking through the web weaved by a multi-billion dollar industry, then I am here to tell you that's not the case, at all. There are mountains of laws that dictate the manner and speed with which items in your credit report can be challenged. Because no law allows for a shorter period of time than 30 days, by that very principle, no credit sweep is possible (at least not legally).
If you'd like to speak with someone on how to avoid credit sweeps and do things the right way:
Mistake #2: Credit Profile Numbers.
Credit profile numbers is not a new fad, but its popularity is experiencing exponential growth (which isn't a good thing). Here's the deal, even if I'm wrong, and those promoting the idea of having secondary credit numbers are right, the truth or at least the reality can only be exposed in the courts. So, consider that when somebody is lecturing you on strawman theory or some other conspiratorial concepts (heck, that may even be right). At the end of the day, they don't get to choose what's right or wrong or what's legal or illegal; the government does. So to the extent that you feel you're right in pursuing and/or obtaining a credit profile number, please understand that your argument is not with us, it's not with your friends and family or the business from whom you purchased a credit profile number… It's with the United States government.
Get started… the right way:
Mistake #3: Everything Tradelines.
When the concept of piggybacking off of authorized user trade lines became popular, the "I will one up you" crowd took the basis of a working product and applied it (in theory) to other products, despite the fact it made no sense, was not founded in law, nor did they have any real way to operate it. Put quite directly, there is no such thing as seasoned primary tradelines, mortgage tradelines, boat trade lines, business trade lines, auto trade lines, etc. and what I specifically mean is that you cannot purchase these types of trade lines and have them added to your credit report. The reason authorized user tradelines exists at all is the result of complicated federal laws (namely the Equal Opportunity Credit Act of 1974 which was implemented by the Federal Reserve Board regulation B). These laws only contemplate authorized user status on revolving trade lines… nothing else.
If you want appropriately matched for your situation, you should get your free account.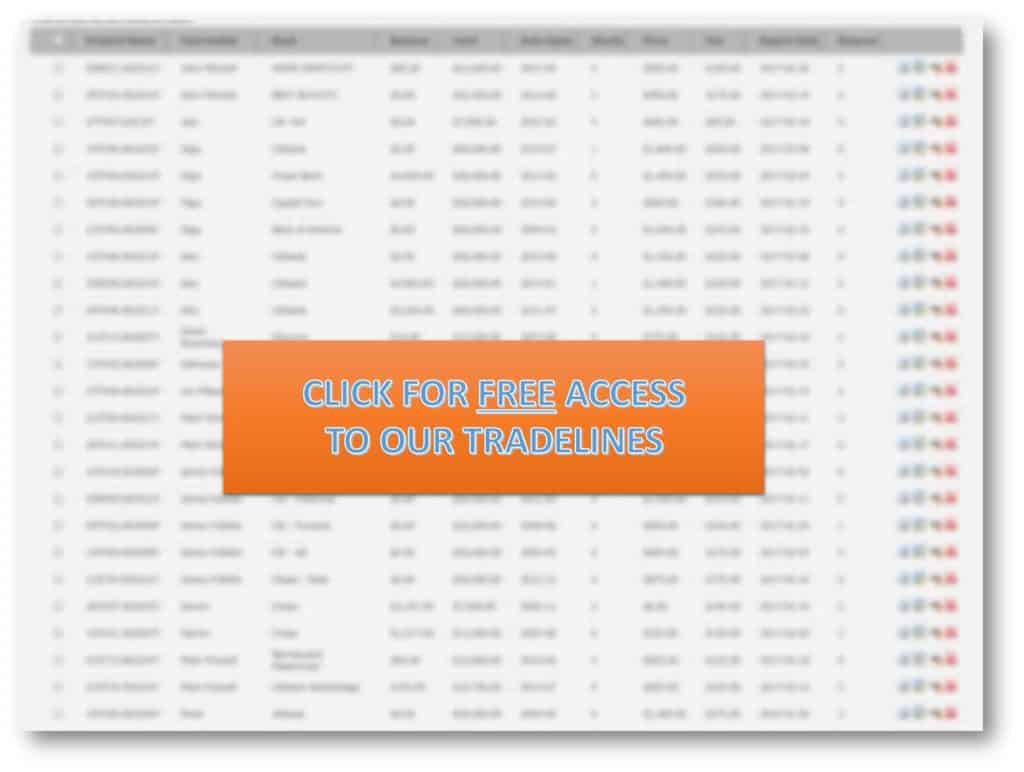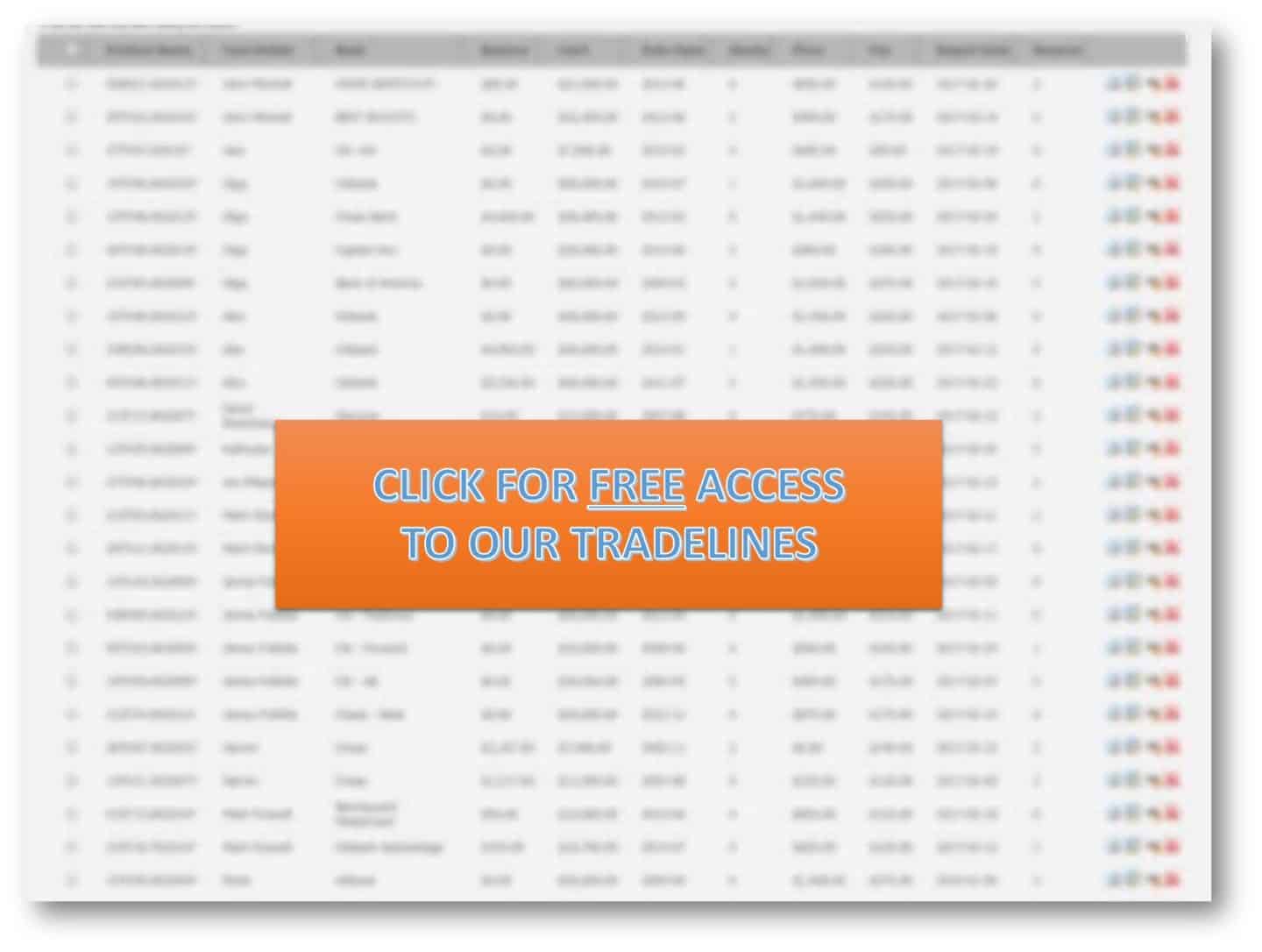 Mistake #4: Using Tradelines as a Form of Credit Repair.
While trade lines are effective in increasing credit scores, you should not mistake adding trade lines with repairing your credit. Adding trade lines to a credit report damaged by multiple negative accounts may not yield any worthwhile results. There is a threshold to consider prior to adding tradelines. The bottom line is adding seasoned tradelines to your credit report is not a substitute for credit repair. The two credit enhancement techniques are most effective if done correctly.
Mistake #5: Not Determining the Legitimacy of the Company.
Anything revolving around your credit is obviously a sensitive matter. If the company with which you intend to work does not secure their website (at least for transferring your data), it's likely they will not handle your information with care once it's on their desk either. Check for HTTPS at the top of the page when you're filling out forms. If their website looks broken, has missing words and misspellings all over the place, I'd imagine this lack of due diligence will also apply to the way they handle you as a client (when we're talking about your credit, this should be taken seriously). You should also check how long a company has been in business, if they answer their phone (or if they even have a phone, for that matter), etc. Despite popular belief, accepting credit cards is not a sign of a legitimate company. People can steal your money through accepting your credit card as a form of payment just as they could by reaching into your pocket and taking money physically. The form of payment a company uses is not, in and of itself, a way to evaluate the legitimacy of the company. However, when you evaluate the totality of the circumstances, the form of payment may be an indication of legitimacy (or lack thereof).
Again, if you'd like to talk to us about tradelines and avoid the mistakes outlined above (and other), contact us. Inaction will not make your credit better. Let's talk now!