Whether you add tradelines to a social security number or a credit profile number is a heavily debated topic. If you thought about purchasing or have purchased a credit profile number (CPN), secondary credit number (SCN), you need to read every word on this page. Same goes if you have no clue what I am talking about right now. Congress recently passed a law making this illegal. Here's a quote from the press:
In a rather strange shift of priorities from economics, foreign war, health-care and the like, today the Senate passed a bill, S.B. 497, which was subsequently signed into law by President Barack Obama. The bill puts an end to credit file segregation through credit profile numbers and forces individuals to use only their current social security number for credit and tax purposes. In addition, those who currently possess a credit profile number may face criminal prosecution.
Okay, so that isn't true. I made it all up. And, you're probably mad, right? Well, I did it to prove a point and I am, in fact, going to tell you the truth. But let me ask, why aren't you mad at those lying to you about the existence of credit profile numbers to begin with? I am trying to help you with free information, while they are trying to take your money and setting you up for failure at the same time.
No new law, because it's already illegal.
If you were concerned with that fake news article excerpt above and it bummed you out, why aren't you concerned with a lack of text that excites you about CPNs? Meaning, this mythical creature called the Credit Profile Number or CPN, sounds great right? Have you ever noticed that there isn't one word proving its existence? I challenge you… go find the law that allows you to use a second credit number for individual credit.
You weren't scammed… you were "helped" someone who's clueless.
I think a small percentage of people pushing CPNs are scammers. To understand that credit profile numbers are a fake takes a bit of time and energy on research. I think the majority of people selling CPNs probably believe the nonsense they regurgitate. I want you to click play on the video clip below. If you find this gentleman authoritative, then there's nothing I can do to convince you otherwise. I would encourage you to read the comments section of this post for all of the arguments for and against CPNs.
What's worse than this video and the horrible information in it, is that of the comments below it where people ask for his contact information. Are we that gone as a society? Do we not recognize that this man is obviously misinformed? SIDE NOTE: If he's smart enough to dig through the CPN craziness, he's smart enough to be productive in another field. Let's wish him luck. Here's a beautiful example… one person awake (albeit, insanely rude), the other steadfast in their desire to get a CPN.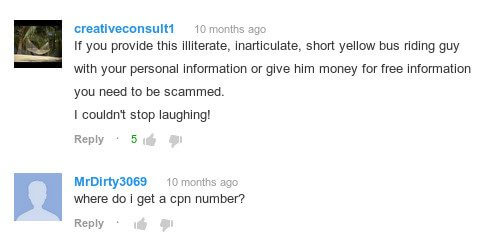 CPNs are illegal and they've always been illegal.
A comment below, posted by Brandon, provides:
If CPN were legal, why would bankruptcy, and credit consolidation exist?
This is an excellent point. You've noticed that I have skipped over the obvious "ineffective" portion of my credit profile tirade? I'm just going for the jugular… they're illegal. I figured without the possibility of going to jail, people might say "Eh… might as well try it.". So, skipping the fact that CPNs don't work in the first place, I'll move on to the fact that they are illegal and the FTC has been charging people since 1999. Okay, so this article excerpt is real and you can click on the link in the previous sentence to see it:
The defendants used the Internet and other media to claim they could help consumers obtain new credit histories by obtaining new identification numbers through a practice known as file segregation. The firms sold instructions about how consumers could substitute federally-issued, nine-digit employee identification numbers or taxpayer identification numbers for social security numbers and use them illegally to build new credit profiles that would allow them to get credit they may be denied based on their real credit histories. Many of their ads claimed the practice was legal.
If you want more information, you can download this document from the Federal Trade Commission's website:

Down from my soapbox, but please listen.
This was a harsh post about a ridiculous topic. We, at Superior Tradelines, are frustrated with CPNs, because we have to talk people down from it constantly. We don't mind doing this to help people, but we're frustrated because we feel people are poisoning your brain with this nonsense and placing an extra burden on us. The bottom line is that credit profile numbers have never been an option for credit enhancement… ever. And, they are not an option today. Please stay away from CPNs for your sake. In addition to this process NOT working, you may end up as a respondent on a Federal Trade Commission complaint or a defendant on a Department of Justice indictment. Or, you will just waste a lot of money and get nothing in return.
If you want to question us about this, please use our tradelines forum to open a dialog. If you want a legal opinion about CPNs, you need to read the post "The Credit Profile Number Scam" by Attorney Mark Bennett, who has many years of experience in criminal defense and argued before the Supreme Court of Texas.
If nothing so far has convinced you, ask yourself this: If Superior Tradelines could make a ton of money selling CPNs, why would they sabotage themselves with this post? If you're still not convinced and you think you have a good argument for CPNs, trust me… it's been addressed below in the comment section.