Often, our clients want to know how long do tradelines take to report and post to their credit files. Each tradeline is an account that reports monthly.  This means, the bank collects all the information associated with that tradeline (the age, limit, balance, payment history, authorized users, etc.) and sends it to the credit bureaus.  This, usually, happens every month.  However, some banks report weekly (especially store cards).
So, in order to have the tradeline added to your credit report, you must have been added to the tradeline prior to the bank collecting all of the information they will eventually send to the credit bureaus.  The closer to statement date (also the date on which they collect the tradeline's information) the less likely you are to report on that cycle.
The sooner you are added, the more likely you will be included in that information the bank collects to send to the bureaus. To determine how long do tradelines take to report, you must consider when you apply to be added to the tradeline and when the statement date for the tradeline is.
How long do tradelines take to show up on my credit report?
One more relevant piece of information… once the bank sends the information to the bureaus; it usually takes about 3 to 5 days for the credit bureaus to update the information. That brings us to the most common tradeline questions asked by clients, followed by our answers. These questions usually revolve around timing and how long do tradelines take, in general.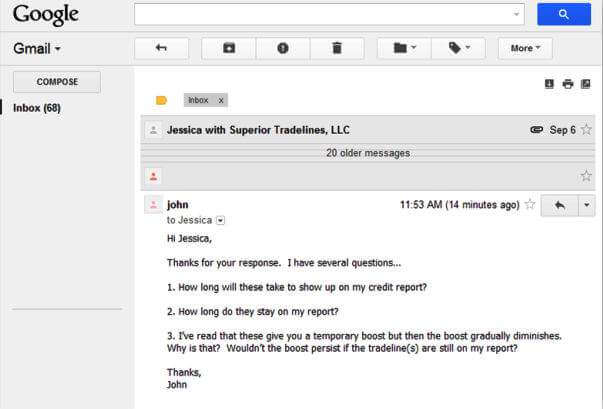 Now, let's put this information in practice to answer the question.  Let's say the statement date of the tradeline is the 1st of the month.  Let's say we add you to the 15th, which is plenty of time for the bank to collect this information.
After the bank sends this information to the credit reporting agencies, they update the reports affected 3 to 5 days later.  In this scenario, it took 20 days to have you listed as an authorized user (15 days for the statement date, and 5 days for the credit bureaus to update reports).
A less desirable scenario is that you were late submitting your order to us and you were added to the tradeline too close to the statement date.
This could prevent you from being added to that first cycle.  As a result, you'd have to wait for another reporting cycle, which is 30 days.  You just went from 20 days to 50 days. In the worst case, there are security freezes, fraud alerts or other issues with your credit file that prevent the tradeline from reporting at all.
How long do Tradelines take or stay on my credit report?
Tradelines can stay on your credit report for years. They can also fall off in as little as 45 days.   However, and as explained here, you should concern yourself more with utilizing the benefit of tradelines as soon as possible without regard for how long it stays on your report.
And, as explained in the answer below, the impact of the tradeline does diminish over time, so even if it is on the report years from now, it might have little effect whatsoever.
I've read that these give you a temporary boost, but then the boost gradually diminishes. Why is that? Wouldn't the boost persist if the tradeline(s) are still on my report?
The reason the impact of authorized user tradelines diminishes is a result of the way it reports. Let me explain why the impact of other types of tradelines remains.
Let's say you have a collection pop up on your report tomorrow. The recent reporting of that negative item is going to severely damage your credit and your credit score. Let's call it a 150 point decrease from day one. Let's further assume you just ignore it and do nothing. They're (the collection agency) going to report again next month, the same information.
Your score decrease remains at 150.
Let's say a few months go by and they stop "actively" reporting it (reporting every month). So, the collection is now 3 months old.
Your score decreases probably about 120 points.
Let's say 24 months go by and they haven't actively reported it.
You're probably sitting on a 50 to 75 point decrease.
Let's say it's 5 years old.
That might represent a 25 point decrease.
**Please note, these are all made up numbers to explain how stuff works conceptually. The exact numbers will be different for each situation.**
Another look at the examples:
Now, let's take that idea and reverse it. When we add a tradeline, you will see an instant increase in your credit score on day one. Since we are not "actively" reporting it (in other words, we're not going to report the same data every month), it will be inactive.
It will remain on your report, it will just be inactive and time will go by since the last time it was active.
So, let's say you got a 100 point increase on month 1, well, you might only have a 95 point increase on month 2. Then maybe a 65 point increase on month 3, a 50 point increase on month 4, a 10 point increase on month 12, etc.
So, while the question is important, the time it takes you to utilize the impact from your tradeline is much more important. For example, you wouldn't want to boost your score 100 points on month 1, wait six months to find a home, another 2 months from offer to closing, etc., and then expect your score to be 100 points higher than it was.
Instead, you'd want to take advantage of the boost as soon as possible. This means, have your house picked out, have your finances in order, all preparations for the mortgage application… then add the tradelines and pull the trigger. This way, you receive maximum benefit from the tradeline.
Interested in tradelines?
Contact us at info@superiortradelines.kinsta.cloud
Updated: November 4, 2021