Often, our clients want to know how long do tradelines take to report and post to their credit files. Each tradeline is an account that reports monthly.  This means, the bank collects all the information associated with that tradeline (the age, limit, balance, payment history, authorized users, etc.) and sends it to the credit bureaus.  This, usually, happens every month.  However, some banks report weekly (especially store cards).
So, in order to have the tradeline added to your credit report, you must have been added to the tradeline prior to the bank collecting all of the information they will eventually send to the credit bureaus.  The closer to statement date (also the date on which they collect the tradeline's information) the less likely you are to report on that cycle.
The sooner are added, the more likely you will be included in that information the bank collects to send to the bureaus. To determine how long do tradelines take to report, you must consider the previous factors
How long do tradelines take to show up on my credit report?
One more relevant piece of information… once the bank sends the information to the bureaus; it usually takes about 3 to 5 days for the credit bureaus to update the information. That brings us to the most common tradeline questions asked by clients, followed by our answers. These questions usually revolve around timing and how long do tradelines take, in general.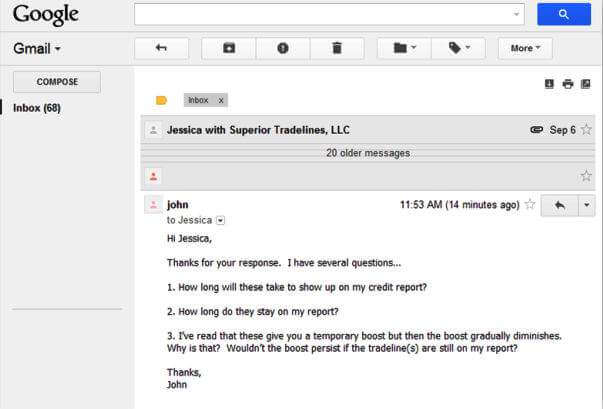 Now, let's put this information in practice to answer the question.  Let's say the statement date of the tradeline is the 1st of the month.  Let's say we add you to the 15th, which is plenty of time for the bank to collect this information.
After the bank sends this information to the credit reporting agencies, they update the reports affected 3 to 5 days later.  In this scenario, it took 20 days to have you listed as an authorized user (15 days for the statement date, and 5 days for the credit bureaus to update reports).
A less desirable scenario is that you were late submitting your order to us and you were added to the tradeline too close to the statement date.
This could prevent you from being added to that first cycle.  As a result, you'd have to wait for another reporting cycle, which is 30 days.  You just went from 20 days to 40 days. In the worst case, there are security freezes, fraud alerts or other issues with your credit file that prevent the tradeline from reporting at all.
How long do Tradelines take or stay on my credit report?
Tradelines can stay on your credit report for years. They can also fall off in as little as 60 days. Typical reporting times for authorized user tradelines are about 6 months to 1 year.  However, and as explained here, you should concern yourself more with utilizing the benefit of tradelines as soon as possible without regard for how long it stays on your report.
And, as explained in the answer below, the impact of the tradeline does diminish over time, so even if it is on the report years from now, it might have little effect whatsoever.
I've read that these give you a temporary boost, but then the boost gradually diminishes. Why is that? Wouldn't the boost persist if the tradeline(s) are still on my report?
The reason the impact of authorized user tradelines diminishes is a result of the way it reports. Let me explain why the impact of other types of tradelines remains.
Let's say you have a Capital One credit card, or CITI card, whatever… that "tradeline" is reporting actively.  This means, it reports every month and every month it reports the positive impact (assuming it's paid on time) is recalculated over and over.  As it relates to seasoned tradelines (authorized users), the tradeline reports once.  You inherit the previous payment history which causes your score to rapidly increase.
However, on month 2, it is not actively reporting… on month three, it's not three months old.  Month six, six months old.  Your credit score is affected most by recent items.
Therefore, old items have less of an impact on your credit score.   Note:  this is true for negative information as well. For example, if you have a 3-month-old collection, it is killing your credit score.  If you have a 3-year-old collection, it has a much smaller negative impact than the 3-month-old collection.