As a proponent a leader of the tradeline industry, we, of course, write quite a bit about how adding positive lines of credit to your credit report can increase your credit scores.
We tell you all of the good.
However, in our consultations with clients, we often tell them the bad things they should avoid.
We've never really written about it, though.
So, we wanted to write this blog post about the ways in which tradelines may not be able to help and reasons you shouldn't buy them if you fall into these categories.
#1) If you are strapped for cash, don't buy tradelines.
Sometimes we have clients with the best intentions in the world.
They ask if we can do payment programs.
Or, even more extreme, they ask if they can pay us after they get new lines of credit and they will charge our fee to their new lines of credit (i.e., their new credit cards).
We applaud and appreciate this creative thinking. However, our position has always been this:
If you can't afford the tradelines, you can't afford the payments on the lines of credit you'd acquire as a result.
It's not that we are playing hardball negotiations.
On the contrary, it's that we care about our clients and would never want to put them in a financially unstable situation by getting them into credit lines they can't afford.
#2) If you have extremely damaged credit, don't buy tradelines.
We turn down clients and recommend credit repair quite often.
Some clients appreciate our honesty and integrity and thank us for not taking their money.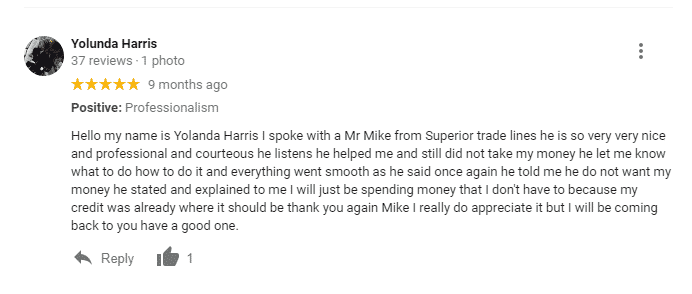 Other clients, however, get frustrated and say:
If my credit were good, why would I need you?
This position seems to make sense, but it overlooks the distinction that not all credit is the same. There are different degrees of "bad" when it comes to credit.
What if your credit is excessively damaged?
For example, recent collections, recent late payments, recent charge-offs, etc.
Tradelines may have a positive effect. But that impact will be minimal at best.
Let's say your credit score was 400 and we got you a 150 point boost and your new score is 550. This is a useless score improvement.
Think about it this way:
If you need a 640, it doesn't matter to a lender if your score was 0, 22, or 639.
Either way, a lender can't approve you.
This is why we ask for credit reports from our clients and discuss their credit goals with them. We want to make sure they actually benefit from our services. And, if we think they cannot benefit, we recommend other services.
3) If your goals don't make sense, don't buy tradelines.
Some people have the misguided notion that tradelines open the door to cash, or will make their business model succeed, etc.
We wrote about buying tradelines for business funding and when it makes sense and when it doesn't.
We encourage you to read that post because it explains well what we mean here.
If your goals are not well settled, tradelines could act to exacerbate the issues.
Read also the top 5 mistakes to avoid when buying tradelines.
Conclusion:
Tradelines are powerful credit enhancement tools, but they can be misused.
If you are unsure about your credit situation and whether or not tradelines will help or hurt, get in touch and we would be more than happy to discuss your credit situation with you.
I think you'll discover very quickly that we are here to help.
Matias is a serial entrepreneur and CEO of many companies that help people. He owns Superior Tradelines, LLC, which is one of the oldest and most reliable tradeline companies in the country.